Keeping Polio at Zero in Nigeria
World Polio Day update from Dr. Tunji Funsho, Nigeria PolioPlus Committee Chair
Story Written By:
Dec. 4, 2019
What a plethora of activities we had for World Polio Day 2019! 
This World Polio Day, 24 October, was marked by myriad activities preceding and also following the day itself. By now, we are all familiar with the significance of that date. It was chosen because it's close to the birthday of the inventor of the first polio vaccine, Dr. Jonas Salk. The Salk vaccine, the injectable polio vaccine, was named after him. 
Rotarians around the world planned and executed many programs with four themes: advocacy, creating awareness, fundraising, and field activities. Rotarians across the country in every city painted their town not only red but all imaginable colors. 
They also rolled out the drums to celebrate the first World Polio Day since Nigeria crossed a major milestone on 21 August: three years without a case of polio caused by the wild virus. Yes, we have reason to celebrate, because more than two decades of hard work fraught with many challenges has paid off.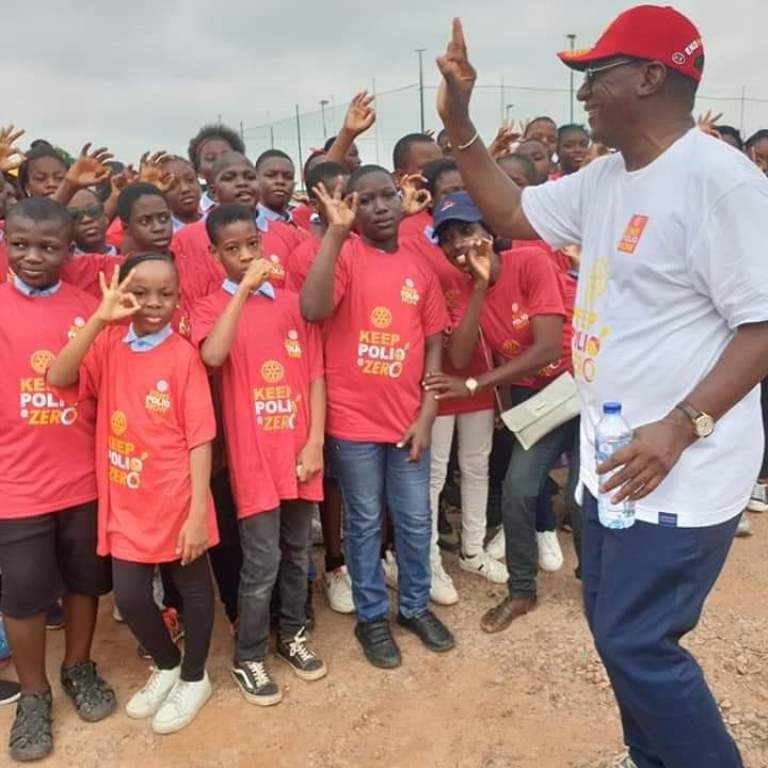 We kicked off our activities with our annual awards for fieldworkers in Abuja. It was a very colorful ceremony where those who take the final step to get the vaccine to the mouths of our children were publicly recognized and thanked with trophies, plaques, and certificates. It was also an opportunity to remember at least 64 fieldworkers who have been killed while getting the vaccine to children. All of our partners in the Global Polio Eradication Initiative (GPEI) participated in the award ceremony. Our royal fathers, the shehu of Bama and the chair of the traditional leaders council for polio eradication, Alhaji Kyari Ibn Umar El-Kanemi; the Mai Kaltungo, Alhaji Saleh Muhammad; and the emir of Songa, Dr. Haliru Ndanusa Yahaya, also graced the occasion. 
We had our usual polio road walk with about a thousand participants, including government representatives and our GPEI partners, the World Health Organization, UNICEF, the U.S. Centers for Disease Control and Prevention, and the Bill & Melinda Gates Foundation. Our in-country partner, the Sir Emeka Offor Foundation, participated, and Sir Emeka Offor himself attended. We were on the major television channels and social media outlets to advocate, educate, and motivate. 
At last count, Nigerian Rotarians had carried out and registered 779 World Polio Day activities across the country. We rank third in the number of activities registered on endpolio.org. 
The Nigeria PolioPlus Committee rounded up its activities in Lagos with a performance of comedy, music, and dance led by our celebrity ambassadors Ali Baba, Kate Henshaw, Sani Danja, Akiin Shuga, Phyno, and Timaya. It was a fun evening and we raised funds for The Rotary Foundation's PolioPlus Fund. Now that the celebrations are over, we have to focus on our remaining challenges to ensure that there are zero cases of polio in Nigeria until worldwide eradication is certified.
There is no room for complacency. We must redouble our efforts to counter any negative perceptions of the vaccination program, advocate for more funding, and continue to strengthen routine immunization and polio surveillance structures.