Climbing mountains for those who can't
Story Written By:
Oct. 16, 2023
A few years ago, two members of Rotaract from Paris, France, launched the Climbing like Ibrahim project. Mini and Rachid had a friend in common, Ibrahim, a polio survivor, who always used to say that for him, going to school was like climbing mountains every day.
They set about challenging themselves to climb mountains for Ibrahim to raise funds for ending polio, so that no more children would have to "climb mountains" to go to school. They began by climbing Mont Blanc, in the French Alps. Since then, several other efforts have included an ascent of Kilimanjaro, the Inca route in Peru, the crossing of Corsica via the GR20 and the tour of Queyras in the Hautes Alpes.
For this sixth effort, those of us involved in planning this edition of the climb wanted to do something more engaging, but above all we wanted to open this project up to the public. Climbing Like Ibrahim is a fundraiser, but it is also about telling our communities about polio, about the need for immunizations, and about the work Rotary is doing.
With the project team, we decided to cross the Pyrenees, and as a relay: a first!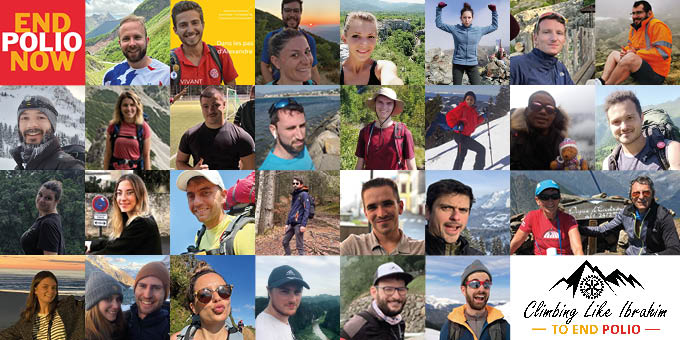 The Pyrenees and its GR10 in numbers:
· 922 kilometers (570 miles) of marked trails crossing France from Hendaye to Banyuls
· 55,000 meters (180,000 feet) of elevation change
· 55 days of walking on average
· 355 hours of walking time on average
We divided the distance into 18 stages. Each stage is a different number of days, distances, and difficulty levels so as to appeal to people of as many abilities as possible. We had more than 40 walkers, including members of Rotaract and Rotary, club presidents, district governors, and some nonmembers. It involved 53 days of walking or running between 1 July and 22 August 2023. Walkers came from two countries, 10 districts, and 15 Rotary clubs.
We publicized our efforts in advance through videos as well as sharing photos every day the walk was underway. At the end of each stage, we shared a summary video. A video is currently being produced that can be shown by clubs and districts at their meetings and conferences.
We set an ambitious target of €20,000, the same as last year's. To date, we've raised €14,000 but we are still collecting. We have until the end of December to reach our goal. We are planning even more communication and will be auctioning off the flag we carried throughout the adventure.
We have raised almost €40,000 since the first Climbing like Ibrahim, a sum we have donated to PolioPlus. Learn about our fundraiser at http://bit.ly/3OT2Dlk or contact us at climbinglikeibrahim20@gmail.com.